Pool Cleaning & Maintenance
We offer weekly, bi-weekly and monthly pool cleaning and maintenance services for the Riverside, CA area and surrounding cities. If you need a one time pool cleaning or other duration, please let us know and we will provide you a custom quote.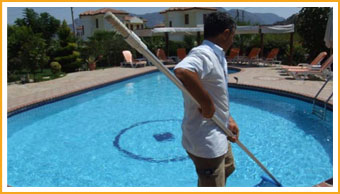 BlueScape uses only the finest industrial-strength pool chemicals and materials, to maintain your pools water clarity and sanitation while providing complete cleaning service for your pool. During our maintenance, we remove all debris and leaves from your pool, brush where necessary and maintain your filtration system.
We add the best water clarifier on the market to aid in filtration and to make your water sparkle. We inspect all pool systems and components to ensure proper operation.
Has it been a while since your pool has been maintained? That is OK! We provide one-time major cleaning services for your pool. Contact us for a quote.
Our pool maintenance services can include the following:
Test water for correct chemical amount.
Add chemicals as needed.
Brush Tile
Vacuum pool and spa
Check water level and make adjustments as required.
Backwash and add DE
Empty pump and skimmer basket
Inspect Equipment
At BlueScape, not only can we maintain and clean your pool, but we can also maintain and mow your lawn, with our lawn maintenance services. No matter what your needs, Contact us now for a quote!
We provide services for most the Riverside area, such as, Riverside pool cleaning, Woodcrest pool cleaning, Orange Crest pool & spa maintenance, Canyon Crest, Mission Grove pool care, Murrieta pool and spa maintenance, Perris , Moreno Valley pools and more.