Lawn Maintenance
We offer weekly, bi-weekly and monthly lawn care and maintenance services. If you need a one time yard clean up, weeding or other service, please let us know and we will provide you a custom quote.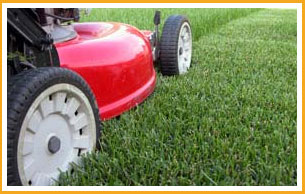 BlueScape can maintain your lawn, keeping it green and beatiful all year round. During our maintenance, we remove weeds, trim and cut your grass. In addition we can maintain planters, shrubs and more during your routine lawn maintenance.
We make sure your yard looks its best, your grass remains green and your sprinklers and watering is working properly. If you have a pool, we can include pool services in your monthly maintenance plan as well, making it easy and affordable.
Has it been a while since your yard has been maintained? That is OK! We provide one-time major year clean up services. Contact us for a quote.
Our yard and lawn maintenance services can include the following:
Cut and trim grass
Remove weeds
Trim Shrubs and bushes
Rake and remove leaves or debris.
Check and adjust sprinklers.
Remove and trim dead plants or flowers.
And more.
At BlueScape, not only can we maintain and clean your lawn, but we can also clean and service your pool, with our pool maintenance services. No matter what your needs, Contact us now for a quote!
We provide services for most the San Bernardino area, such as, San Bernardino lawn maintenance, Highland lawn cutting, Kendall lawn services, Cimmeron lawn care, Muscoy grass cutting, Perris Hills, East Highland yard maintenance, Redlands yard care, Yucaipa lawn maintenance, Beaumont, Rialto, Devore, Glen Helen and Loma Linda.